January 11, 2020
Cedefop and international organisations share vision of career guidance's strategic role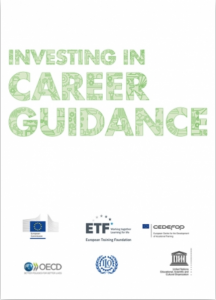 Cedefop, together with the European Commission, ETF, OECD, ILO and UNESCO have released a shared vision of the strategic role of career guidance in enabling learning and labour market integration.
In a new booklet they shed light on what career guidance provides to learners, workers and jobseekers. The booklet highlights the key role guidance plays in helping young people choose their learning paths and careers, making the best use of their potential.
It also provides insights on how adults can better understand and navigate an increasingly complex labour market, in an age of accelerated technological change. It gives hints to policy-makers on successful integration of guidance in education, training and employment policies.
Investing in career guidance – Cedefop, European Commission, ETF, OECD, ILO and UNESCO – December 2019