May 2, 2023
Rise of green, education and agriculture jobs
Investment in the green transition and climate-change mitigation, as well as increasing consumer awareness of sustainability issues are driving industry transformation and opening new opportunities in the labour market. The strongest net job-creation effects are expected to be driven by investments that facilitate the green transition of businesses, with more than half of respondents expecting it. As countries seek more renewable energy sources, roles including renewable energy engineers and solar energy installation and systems engineers will be in high demand.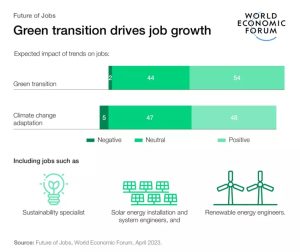 investment will also drive growth in more generalist sustainability roles, such as sustainability specialists and environmental protection professionals, which are expected to grow by 33% and 34% respectively, translating to growth of approximately 1 million jobs.
However, the largest absolute gains in jobs will come from education and agriculture. The report finds that jobs in the education industry are expected to grow by about 10%, leading to 3 million additional jobs for vocational education teachers and university and higher education teachers. Jobs for agricultural professionals, especially agricultural equipment operators, graders and sorters, are expected to see a 15%-30% increase, leading to an additional 4 million jobs.
Indeed, a Recruit Holdings company, finds that while demand for social jobs such as those in health and education have grown faster during the pandemic, these job openings are harder to fill than others.
"At Recruit, we believe we must continue to embrace AI and technology to help job seekers and employers as we navigate near-term macroeconomic headwinds and long-term labour market challenges," said Hisayuki "Deko" Idekoba, President, CEO and Representative Director of the Board of Recruit Holdings. "We expect a labour shortage to remain for many years ahead, across many sectors and particularly as the population ages. Therefore, it is essential that we identify new ways to simplify the hiring process to support a thriving economy and society where everyone can prosper together."