April 7, 2022
ILO – Policy guidance note: Digitalising career guidance services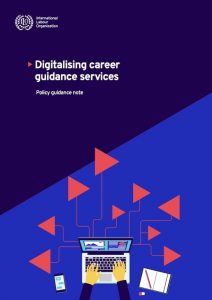 This policy guidance note provides advice to decision makers, managers and technical staff on how to invest in digitalising career guidance services
There is a need to rationalise decisions on investment in digital tools for career guidance so that they are useful and address the needs of beneficiaries and clients.
Their choice and design should be thoughtful, leading to well integrated and coherent solutions rather than ad hoc investment. An approach that en­sures that technology is 'fit-for-purpose' for specific and diverse needs, contexts and publics is required with the aim of improving the accessibility, quality and relevance of career guidance services.
This note can assist in the identification of the issues to be considered when investing in digital technologies. Aspects considered include system level concerns, targeting specific groups, labour market information usage, personal data, access to services as well as use of recent technologies.